comments: " this was a six weekends project... a little bit stressy because we were communicating electronically and I had no time to adopt the construction to the body of the musician.... I even had no time to take a photo of the end result!.. But I saw a video from the world tour.... Flake was using it on their huge concerts in Japan, France, GB, and whatever. Tough I didnt have the opportunity to make it more comfortable the object looked good on the screen and fitted perfectly to his styling... and we were able to pay the synlabor workshop depts. " marv
"....If anybod has nice photos of Flake with the Flakkordeon it would be really nice...."
pictores below: the first sketches of the "Anschütz-Akkordeon" or later called "Flakkordeon".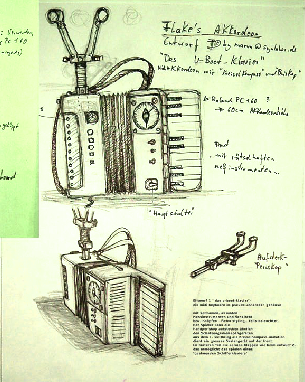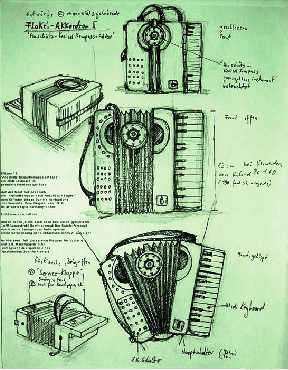 At this" scribbling" state of work Marva didnt know Flake needed to play on 88 keys. (Much more than on a normal akkordeon) So the first build was way too big and had to be "shrinked" while Rammsteins played their 3 berlin concerts at the start of the tour.